We at Geeks For Your Information are very pleased to announce our 


Ashampoo Snap 12

Mother's Day 2021

Giveaway!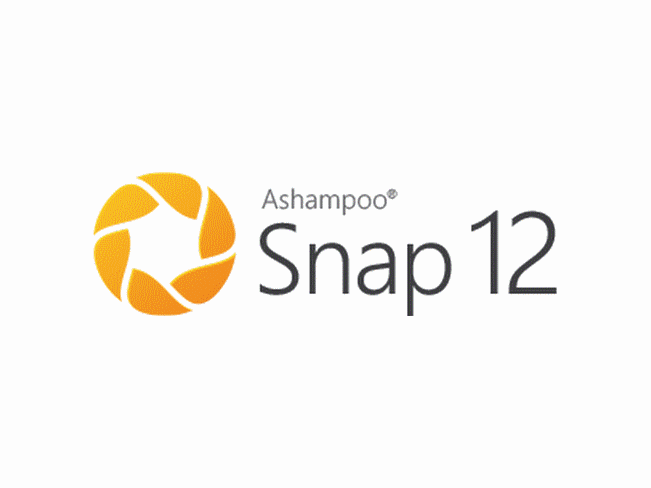 We would like to thank

Ashampoo Development GmbH & Co. KG.

for sponsoring us the giveaway prizes
Overview
Ashampoo Snap 12
is the latest version of Ashampoo's line of screen capture software! This great program will capture anything on your screen whether it be an images or video getting the job done quickly and easily! 
Aside from regular screenshots, the program also supports timed captures, scrolling areas, custom window sizes and multi-display environments. Multiple post processing features help you augment your screen captures with graphics, texts and effects to convey a lot of information quickly and visually. From webinar recordings to individual tutorials to illustrated explanations. Even full-screen games can be screenshotted without loss of quality. And the program stays out of your way until you need it. Comfort features, like multi-lingual text recognition, automated numbering or dedicated post-processing tools, save you time and effort. Capture content can not only be stored locally but easily uploaded to social networks or cloud services.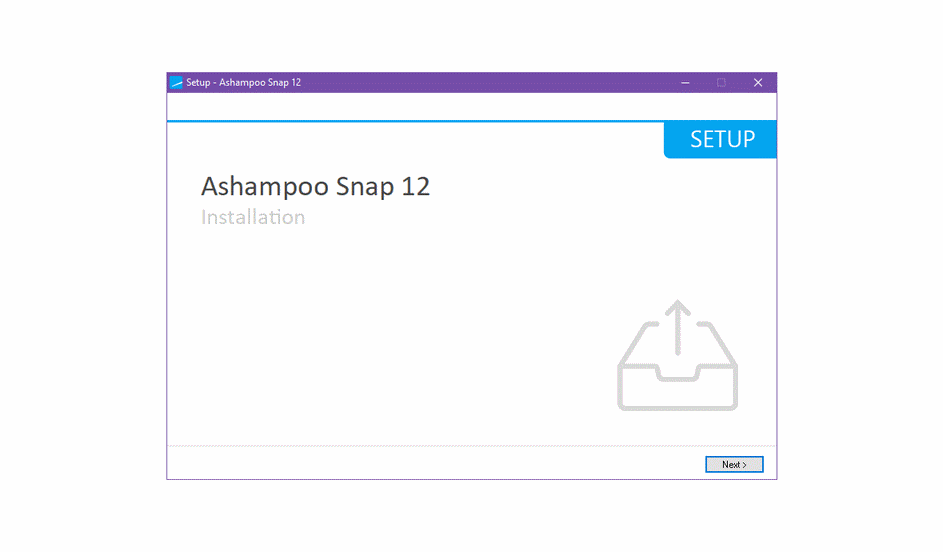 Ashampoo Snap 12 comes with a built-in video editor to make custom cuts, freely merge them or store them as individual episodes. GIF export is also included. Version 12 features a completely overhauled recording section that is powered by future-proof technology. Screenshot tools are now available through the new
"magic eye"
, including the new multi-purpose capture tool for rectangular and scrollable areas as well as entire windows. The image editor and settings dialogs are all redesigned for better visual clarity and of course faster access.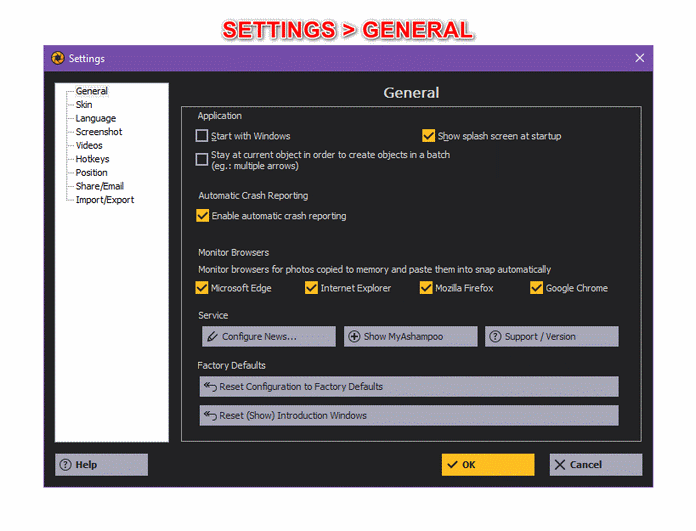 Some highlights in a nutshell:
Improved Video capturing and fast

(and)

easy video cutting
Video capturing in Ashampoo Snap 12 offers the user to "only" keep the important bits of any video capture. Ashampoo Snap 12 gives the user the power to edit the captured video straight from the interface. It doesn't matter whether the user is casually pointing and capturing, creating an extensive webinar or producing a high-quality presentation. Get the finished version of what you really want nothing more!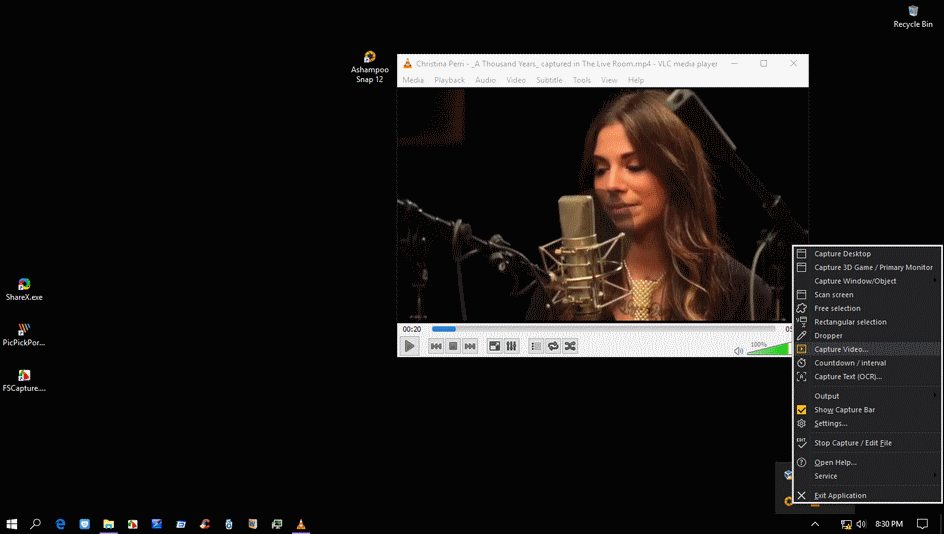 Capture and share desktop contents with ease
Would you like to share your screenshots and videos with friends and family or upload them to social networks? 
With Ashampoo Snap 12, is an indispensable tool for you especially during this time of the pandemic "work-from-home"! Ashampoo Snap 12 gives the user more than enough options to directly share files across all popular online and cloud services, including Twitter, Facebook, Dropbox, OneDrive, Google Drive etc. Not only that, Ashampoo offers a simpler way of sharing files via
"Ashampoo Webspace"
and from there share all you can. And yes, it's completely free!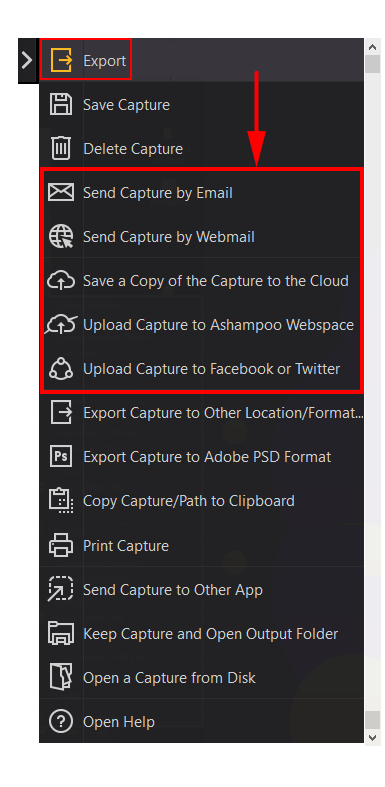 Create videos for any purpose
Creating instructional videos or documentaries is a breeze with Ashampoo Snap 12. Recordings are live-annotable with texts, drawings and voice narration. Clear things up with visualized mouse clicks and key strokes and add watermarks to protect your intellectual property. Take it to the next level and add live feeds from your webcam in a single click. Here's your ticket to create engaging tutorials, prepare instructive webinars and to point the way to the things that matter most to you–literally!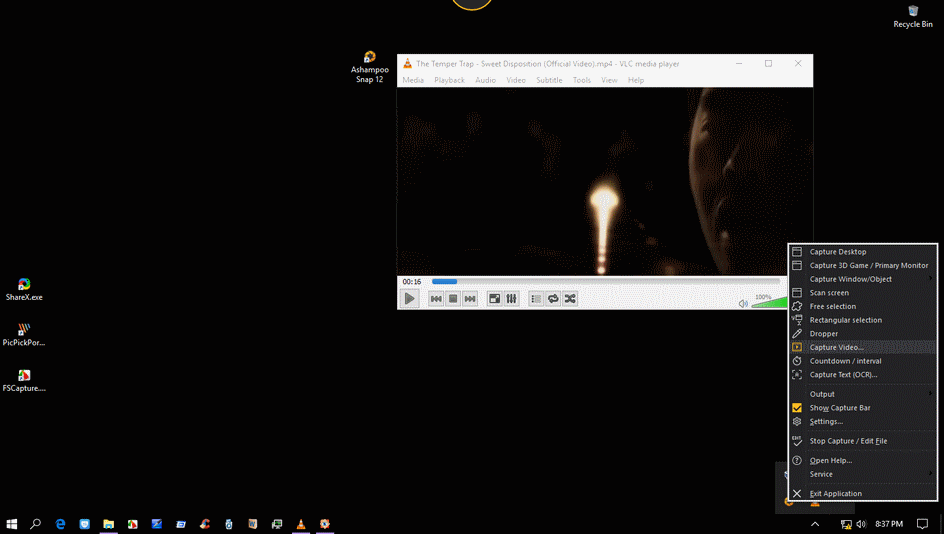 Save time and screen-capture information instantly
With Ashampoo Snap 12, the user can enrich images with comments, drawings and explanations to get to the point quickly! Point out details, highlight errors or mark out important areas in a snap. Save yourself tedious text-based explanations and say exactly what you mean with a single screenshot! Ashampoo Snap 12 comes with more than a dozen of annotation tools and they are easy to use!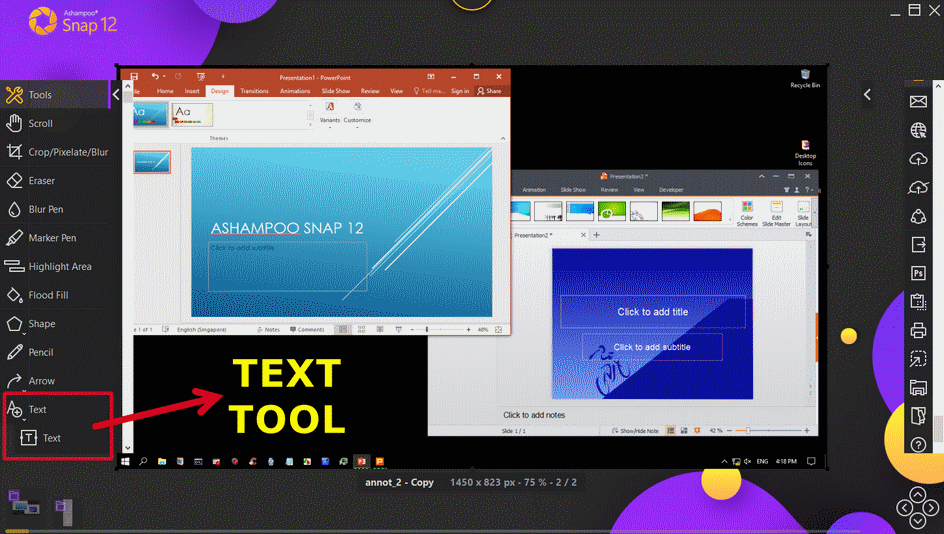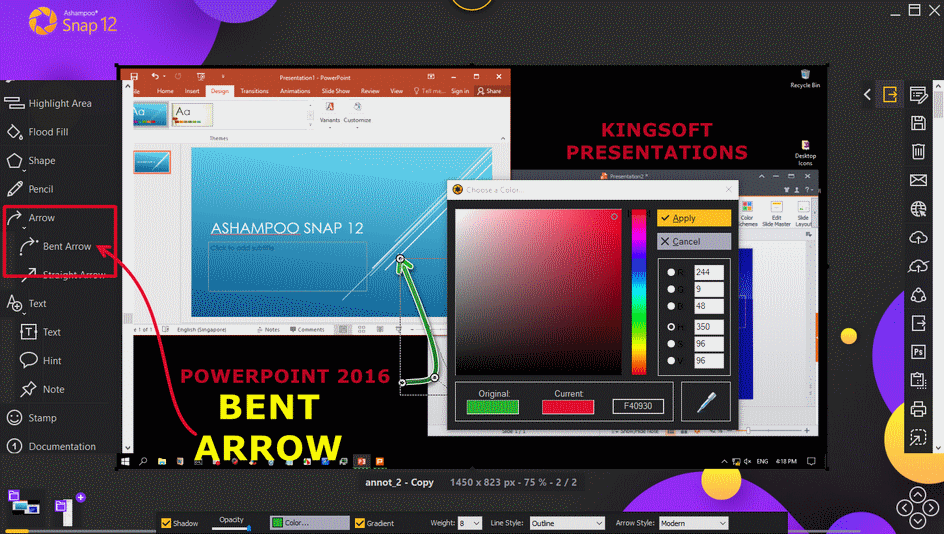 Perfect for different screen resolutions and multi-display environments
Ashampoo Snap 12 fully supports multi-display setups, even with different resolution and DPI combinations, e.g. mixed Full HD and 4K environments. The user can set each display and capture it at its individual resolution for maximum crispness. Results are instantly editable via the editor.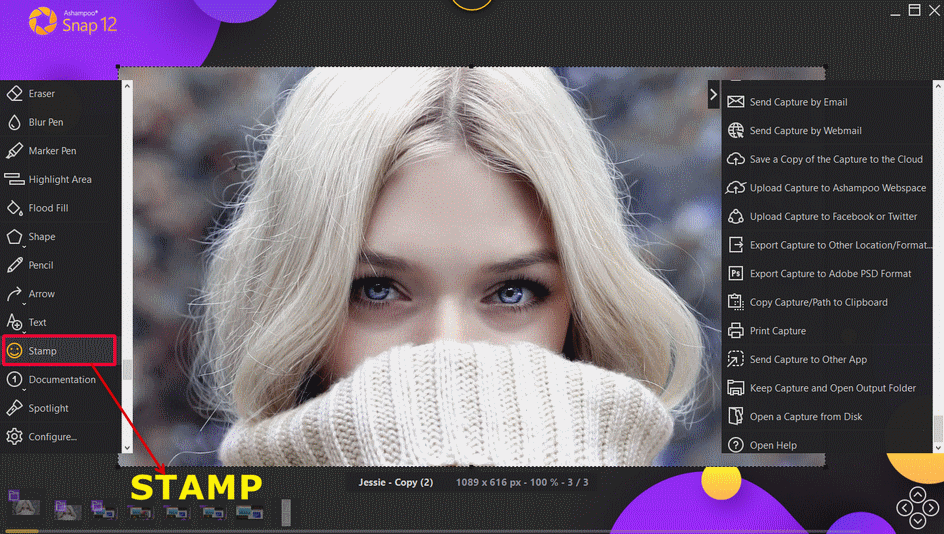 Create GIFs from any video
The user does not need to go to an online site to transform their captured images to GIFs. With Ashampoo Snap 12 the user can turn any video segment into GIFs instantly. Just set the start and end positions, fire up the built-in converter, done!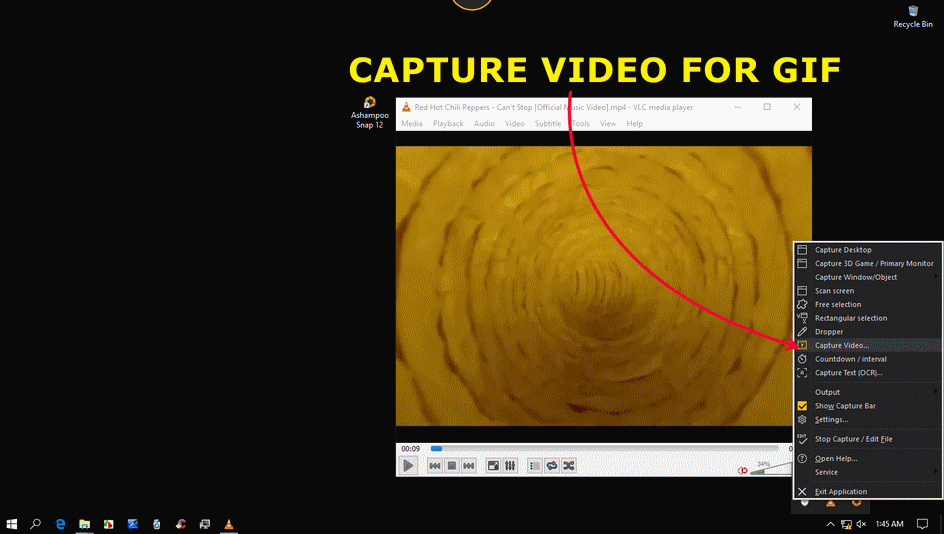 More than a snipping tool: extensive comfort features
Ashampoo Snap 12 does most of the heavy lifting for the user. Automatic numbering or time-delayed captures will help you make the most of your shots. Freely annotate your captures with texts and drawings or use flood fills. Put the spotlight on individual portions, blur sensitive data and use the highlighter to direct attention in style!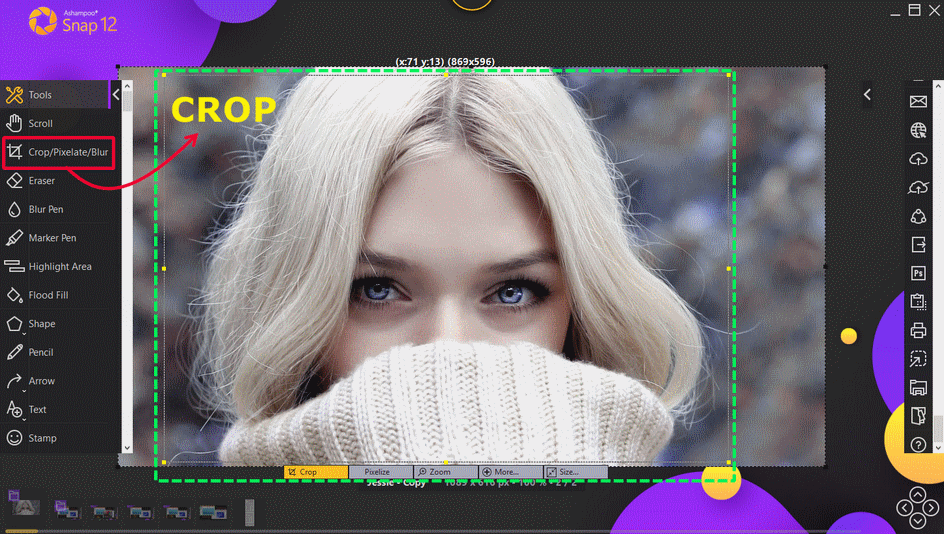 Take full-quality screenshots of your video games
Ashampoo Snap 12 takes care of the gamer in you! Ashampoo Snap 12 will take perfect screenshots of your games, even in fullscreen mode. It will capture any epic 2D and 3D fullscreen adventures in resolutions up to 4K, preserve them for the user. Those greatest triumphs, highs cores and player highlights recorded forever and these can also be used as reference to make the gamer in you improve on your next strategy so the next time you play your level will be a whole new one! 
Features at glance:
Completely revised recording area

Multipurpose capture tool for rectangular areas, entire and scrollable websites

Animated, wellarranged user interface

Modern newlydesigned editor

Important options directly in the recording area

New well-laid-out settings dialog    

Latest version build is Ashampoo Snap is 12.0.3 (2021/03/08)
NEW
Multipurpose capture tool for rectangular areas, entire and scrollable websites

Completely revised recording area    

Animated, well-arranged user interface

Important options directly in the recording area

Modern newlydesigned editor

New well-laid-out settings dialog    

IMPROVED
Absolute visual clarity during recording and editing


Details are HERE
Ashampoo Snap 12 - Create screenshots quickly and with great flexibility
Ashampoo Snap 12 licenses for this giveaway/contest
Ashampoo Development GmbH & Co. KG. has provided Geeks For Your Information Forum

five

(5) licenses of Ashampoo Snap 12 as contest prizes!
To boost forum participation/contribution, all who wish to participate

MUST

have posted in the Introduction thread

AND

created a minimum of

one

(1) authored-threads and

five

(5) posts

(threads in sections: (i) Giveaways / Contests (ii) Deals and (iii) Geeks FYI > Feedback (iv) Introduction are NOT COUNTED as created authored-threads).

Entries not meeting the requirement will be deleted. 

Members with on-going "

warnings

" will

NOT

be allowed to join any giveaways until such "

warnings

" have been lifted.

WE WILL BE CHECKING!
1. Please answer the question below.
"What features do you like best in the new Ashampoo Snap 12?"




Post your reply as contest entry

WITH

your social media share.  Please see sample entry below.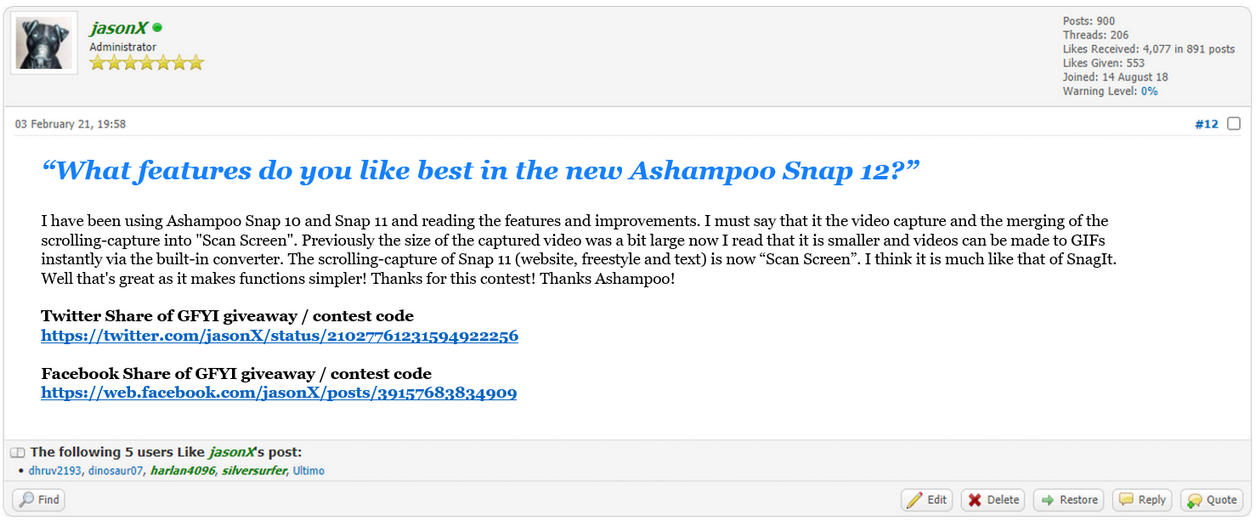 2.

REQUIRED:

Please share this giveaway by pasting the quoted text below in your Facebook/Twitter/Google+ Account.  

(Share is

NOT

limited to popular social media sites like Facebook, Twitter, Google+, and Instagram.)
Quote:Geeks For Your Information Forum [Official] Ashampoo Snap 12 Mother's Day Giveaway
https://www.geeks.fyi/showthread.php?tid=14953
Optional:

You may want to like/follow

Ashampoo's

social networking sites as added support.
3. One entry per IP address ONLY.

WE WILL BE CHECKING!



Only one entry per member is allowed. Dual entries will both be deleted and user will be banned from giveaway so

please be careful.



If there are any questions / concerns pertaining to the giveaway/contest please get in touch with me through PM.

Do not post it in this thread.

Doing so will merit a

warning

and ultimately be

banned

from entering further giveaway/contests.
Each of the

five

(5) winners will get one Ashampoo Snap 12 license
Winners will be selected via

random.org

and once posted,
winners will only have 5 days to send a PM to claim their prize. 
Please include your details (

Name / Email

) in your PM claim.
NO CONFIRMATION

FOR THOSE WITH INSUFFICIENT/INCOMPLETE DETAILS.
Prize will be

FORFEIT

if a PM claim is not received within the specified timeframe.
Prize will be

FORFEIT

if a PM claim is "not confirmed".
The Giveaway will run 
from May 8, 2021 to May 25, 2021