We at Geeks For Your Information are very pleased to announce our 


Ant Download Manager Christmas 2021 Giveaway!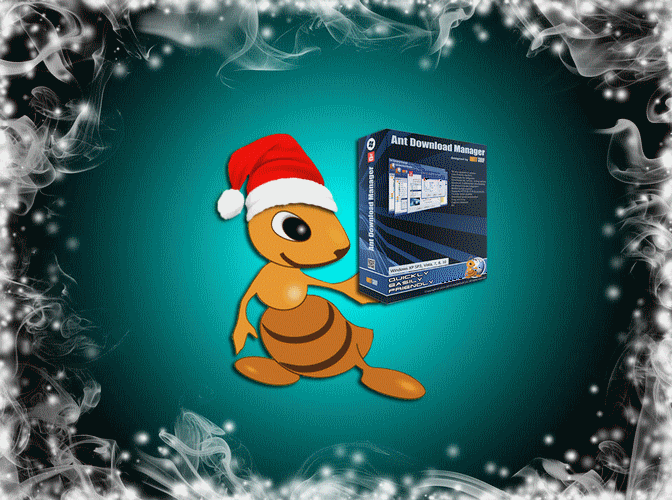 We would like to thank

AntGROUP Inc.

for sponsoring us the giveaway prizes
Ant Download Manager
is an advanced download manager of Internet files with the advanced function of downloading audio and video content. Fully integrates with all popular browsers. Supports the most popular Generators Premium Links
(Debrids)
. Ant Download Manager allows the user repeatedly increase the speed of file downloads due to multiple download streams, resume, schedule downloads, capture and download audio and video streams. This download manager automatically processes download errors, recovers from temporary network errors, reconnects in case of server response delays. It has a 'resume" capability for interrupted downloads due to loss of connection, network problems, computer shutdown, or unexpected power outages.  
Support for proxy-servers, HTTP and FTP file protocols and their protected versions of HPPTS and FTPS is available, as well as the main streaming protocols for audio and video content F4M, M3U8, MPEG-DASH, VIMEO-STREAM, firewalls, redirects, cookies, authorization, processing of audio and video content. Ant Download Manager (AntDM) offers easy integration to popular browsers Microsoft EDGE (Chromium-based), Google Chrome, Mozilla Firefox and their numerous clones: CocCoc, Comodo Dragon, Comodo IceDragon, 360Chrome, Chedot, Brave, Opera, Slimjet, SRWare Iron, Torch, UC Browser, Vivaldi, Yandex, Waterfox, etc. The browser integration automatically captures file or media links and download them. 
AntDM provides a simple convenient feature to preview the video files in the main list of downloads. Move the mouse to the line of video or audio file and AntDM will launch mediaplayer in the tooltip window. AntDM has the ability to reduce or significantly reduce the download speed and thereby allow other programs to run faster. By default, AntDM download speed is unlimited. Multi-threaded download is one of the key functions of any download manager files. This significantly speeds up the download of files
(in some cases up to 10 times)
.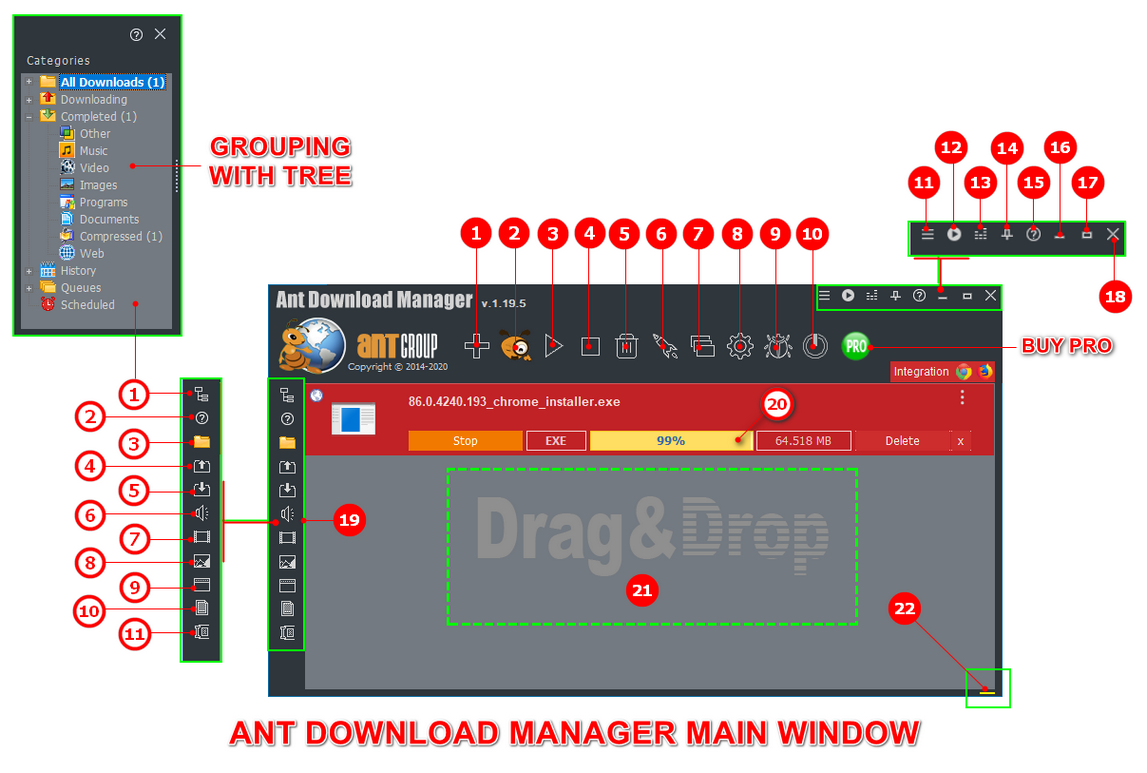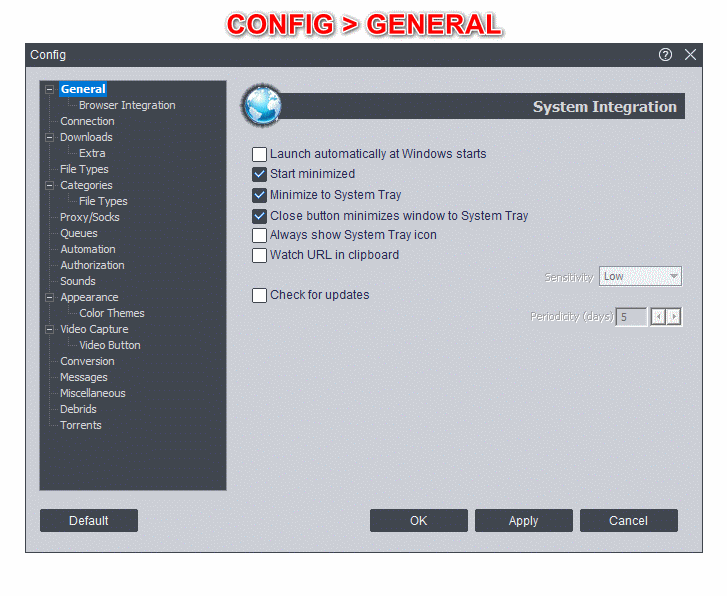 Drag&Drop
feature makes it easier to work with the movement of the links in AntDM to download or downloads files to target folder or on desktop. Build-in links analyzer allows you to explore the static page, reveal hidden links to download files. Other features include multilingual support, download categories, download log, priorities and changes of download speed, task scheduler, sounds of various events, CHM User Guide, virus protection when download completion and many more.
Features at a glance:
Simple, user-friendly, intuitive interface;

Easy access to download the file. Categories. Preview content;

Downloads list, downloads media

(thumbnail)

list, sorting options;

Drag&Drop;

Multilanguage support;

Multi-threaded file downloading;

Resumes broken downloads from where they left off from both HTTP, HTTPS and FTP servers;

Monitors the clipboard and capture links from it to download;

Download single files, a list of files or multiple files in batch mode;

Built-in scheduler to download files and shutdown computer;

Support for automatic test of downloaded files by an antivirus program or the launch of any other script after downloading;

Forced change in download speed;

Supports network HTTP(S), FTP(S) and media stream M3U8, MPEG-DASH, VIMEO-STREAM protocols;

Full integration to most popular web browsers: Microsoft EDGE

(Chromium-based)

, Mozilla Firefox 57+,

Google Chrome 31+ and their clones

(360Chrom, Chedot, Cliqz CocCoc, Comodo Dragon, Comodo IceDragon, Brave, Opera, Slimjet, SRWare Iron, UC Browser, Vivaldi, Waterfox, Yandex, etc.)



Download your favorite audio and video from the Internet;

Convert media files to MP3 format;

Support for many popular video sharing;

Support most popular Premium Link Generators

(Debrids)

alldebrid.com, cocoleech.com, debrid-link.fr, ffdownloader.com, linksnappy.com, mega-debrid.eu, real-debrid.com, premium.rpnet.biz, simply-debrid.com, etc.

Support 4K monitors;

Not any ads, spy or malware.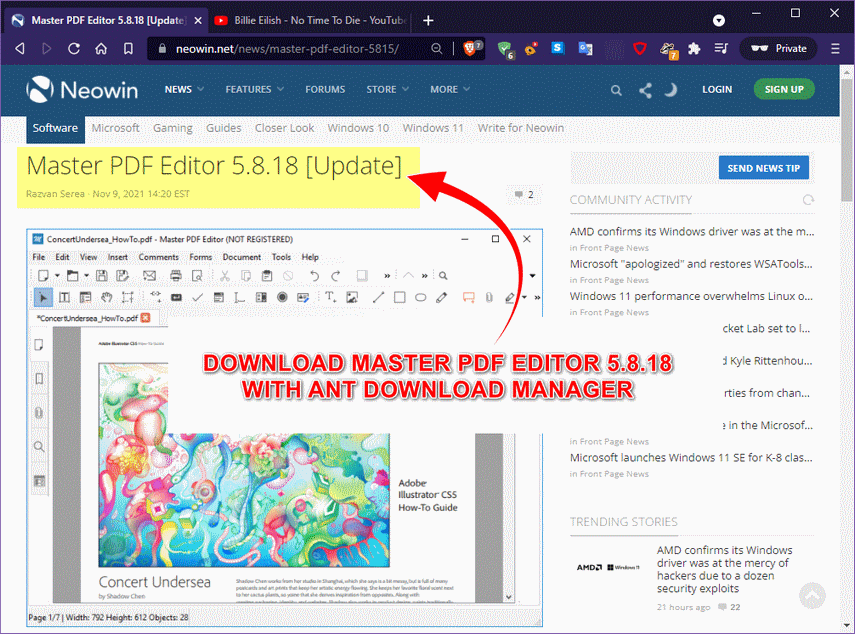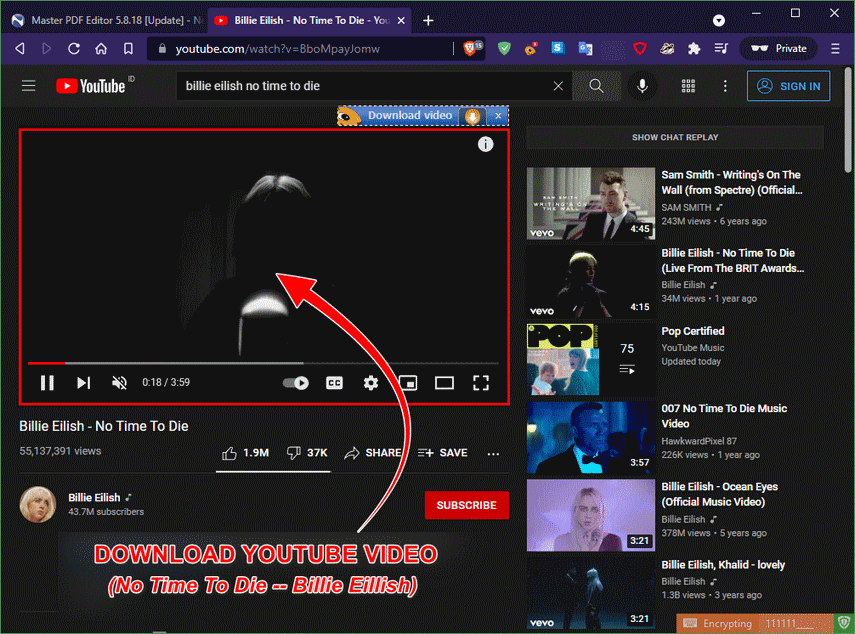 Latest stable build is Ant Download Manager 2.5.1 Build 80369 (19-Dec-2021)
Current version: 2.5.1 Build 80369 (19-Dec-2021 08:33)
2.5.0.80357 (14.12.2021)
added Vietnamese language. Thanks to Nguyễn Văn Dương for translation.

updated M3U8 decryptor

fixed M3U8 parser

fixed MPEG-DASH parser for some video sites

fixed the category folder creation

refactoring and bug fix

Video Stream Capturing made easy with Ant Download Manager
Ant Download Manager licenses for this giveaway/contest
AntGROUP Inc. has provided Geeks For Your Information Forum

FIFTEEN

(15 x 1-year) licenses of Ant Download Manager as

Christmas 2021

contest prizes!
As

Christmas 2021

gift, everyone can join in this contest including approved

"new members"

. 


Note:

'new members' must have posted in the "Introduction" section HERE to qualify.
1. Participants can enter the contest

TWICE

(2x). Please answer the question below.
Please follow the "sample entries" for

ENTRY#1

and

ENTRY#2

. 

Social media share for

ENTRY#2

must be

DIFFERENT

from

ENTRY#1

. 

Please

DO NOT FORGET

to indicate the

ENTRY#1

(or

ENTRY#2

) at the top most corner of your entries.
"What features do you like in Ant Download Manager?"
"Share feedback about AntGROUP

(can be of their support service, application features or site content, etc.)

and why do you want to win an Ant Download Manager license?"
Post your reply as contest entry

WITH

your social media share.  Please see sample entry below.
2.

REQUIRED:

Please share this giveaway by pasting the quoted text below in your Facebook/Twitter/Google+ Account.  

(Share is

NOT

limited to popular social media sites like Facebook, Twitter, Google+, and Instagram.)
Quote:Geeks For Your Information Forum [Official] Ant Download Manager Christmas 2021 Giveaway
https://www.geeks.fyi/showthread.php?tid=16293
Optional:

You may want to like/follow

Ant Download Manager's

social networking sites as added support.
3. Only two (2) entries per member is allowed. Same IP address per member.

WE WILL BE CHECKING!



Excess entries will merit a deletion of all member's entries and user will be banned from giveaway so please be careful.

If there are any questions / concerns pertaining to the giveaway/contest please get in touch with me through PM.

Do not post it in this thread.

Doing so will merit a

warning

and ultimately be

banned

from entering further giveaway/contests.
Each of the

FIFTEEN

(15) winners will get one (1-year) Ant Download Manager license
Winners will be selected by

random.org

and once posted,
winners will only have 5 days to send a PM to claim their prize. 
Please include your details (

Name / Email

) in your PM claim.
NO CONFIRMATION

FOR THOSE WITH INSUFFICIENT/INCOMPLETE DETAILS.
Prize will be

FORFEIT

if a PM claim is not received within the specified timeframe.
Prize will be

FORFEIT

if a PM claim is "not confirmed".
The Giveaway will run 
from December 10, 2021 to January 24, 2022