We at Geeks For Your Information are very pleased to announce our 


Ashampoo Music Studio 9_Ashampoo Home Design 7

 


Valentine's 2023

Giveaway!
Ashampoo Music Studio 9
is "
the
" music editing software that comes with eight (8) dedicated modules to edit and organize audio files. This includes recording, cutting, converting, and burning them to disc. Disc ripping comes with an automatic online cover search to fill in song titles and cover art and can be greatly sped up, thanks to quick ripping that barely needs manual input.   
Ashampoo Music Studio 9 - Simply more sound
Ashampoo Music Studio 9
can also bring order to music collections by renaming and arranging them into folders based on a fully customizable naming scheme. The music software also lets users produce, mix and trim MP3s and other audio formats. Files can be converted, shared, analyzed and normalized with great ease. The built-in audio editor supports up to three audio tracks to easily process both songs and audio books. The integrated cover editor offers a fast and easy route to designing covers and inlays and comes with multiple templates and customizable design options. Naturally, the program also records audio from microphones and even supports "What You hear" to record anything users hear on their PCs. DJ Mix Tape turns songs into harmonious mixtapes with the help of speed analyses and customizable crossfades.   
FEATURES AT A GLANCE:
Flexible cover search

5 newly designed program skins

Fully Windows 11 compatible

Audio trimming the easy way

Faster results with keyboard shortcuts

Split up audios into any number of parts

Enhanced music editor with optimized work flows

Live recording selectable by default

Organize songs more efficiently with templates

Multiple detail modifications for improved usability

Mix songs with tempo analysis and smart synchronization

Cut MP3s in the blink of an eye

Music software with eight comprehensive modules

HIGHLIGHTS AT A GLANCE:
Ready for Windows 11
Version 9 is fully Windows 11 compatible and features a new cover search that offers users more control for even better results. The program has also received a visual overhaul and comes with 5 modern program skins to provide additional variety. Ashampoo has also included 5 new elegant user interface designs that seamlessly fit in the new Windows look.
Audio splitting made super-easy: meet Audio-Splitter
Now you can split your MP3s and other audio files into multiple parts with incredible ease. Use playback and pause to place your cut marks or click anywhere you like to cut and split with millisecond precision. It's fast, it's precise and it's super intuitive. We've gone out of our way to make Ashampoo Music Studio the most user-friendly Music Studio ever. Try it out today and see for yourself!
Take a little off the beginning or end instantly
Live recordings or radio footage usually include a little more than just the songs we want, whether it's a jingle or segway at the beginning, or some commentary afterwards. The new cutting tool gets rid of the surplus bits in a heartbeat. Simply place a few markers and let Music Studio go to work. As with all Music Studio tools, you don't need any previous knowledge to get the job done quickly and efficiently.
Create playlists and find the right format every time
Playlists are the most convenient way to play your songs in any order you like. To ensure, all programs and players can play your collections, Ashampoo Music Studio offers a wide selection of playlist formats. It doesn't matter which player you use - and it doesn't get any more compatible than this!
Convert audio files
Use Ashampoo Music Studio to convert your music files with incredible ease and fine-adjust the quality to your needs. Just select frequency and bitrate and you're done! Or use the many presets and start converting straight away. Every format from the market leaders MP3 and AAC (M4A) to lossless compression with FLAC and WAV, and even specialist formats such as OGG, APE and OPUS, is supported. Save space and play your songs on every device!  
Ashampoo Music Studio 9 - The new cover search
Video Tutorial – Turn your favorite songs into mixtapes
Ashampoo Home Design 7
enables users to design, furnish and visualize their dream home, extension or redecoration on their PCs. The project wizard combined with multiple automatic features helps users get started quickly and greatly facilitates complex calculations. The extensive object catalog covers everything from furniture to electrical appliances and decorations. Every aspect of construction planning is covered. The impressive 3D view supports virtual tours to survey buildings already in the planning phase.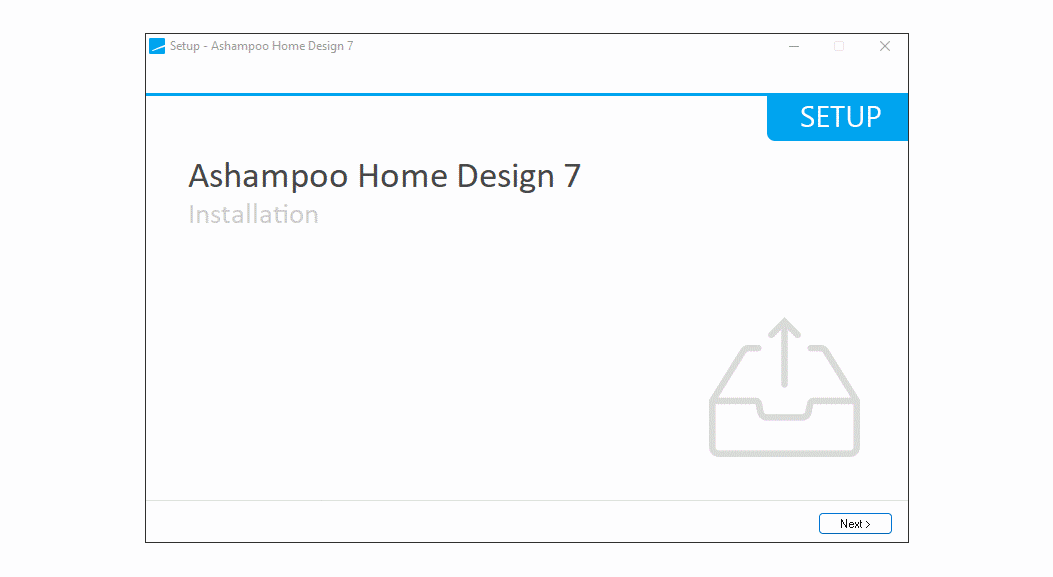 Ashampoo Home Design 7
comes with professional-quality walls, ceilings, windows, doors, recesses, skylights, solar panels, chimneys as well as electrical appliances. Three design levels (2D, 3D, cross-section) provide maximum clarity at every planning step. The home design software also supports SketchUp and Collada imports for even more detailed furnishings. Version 7 comes with over 1200 new 3D objects and a new catalog with over 250 ready-made object groups. Editing walls, windows, and doors has become much easier thanks to new numeric input methods and tools. Working with catalogs now includes new groups of pre-assembled garages, kitchen units, garden sheds, and saunas, with the option to create and add custom folders.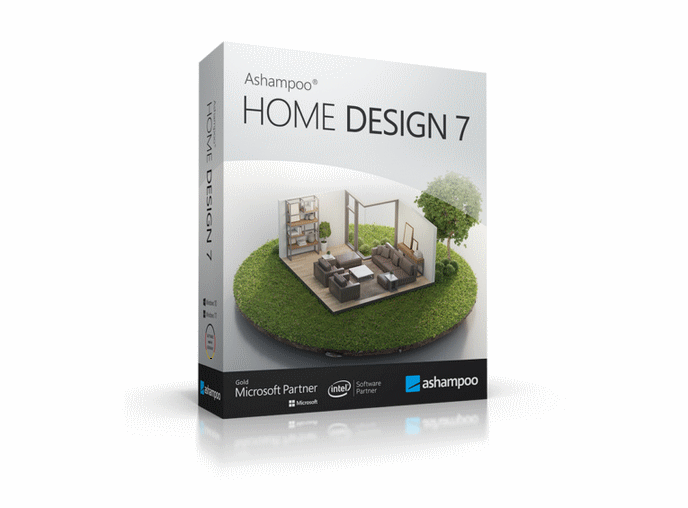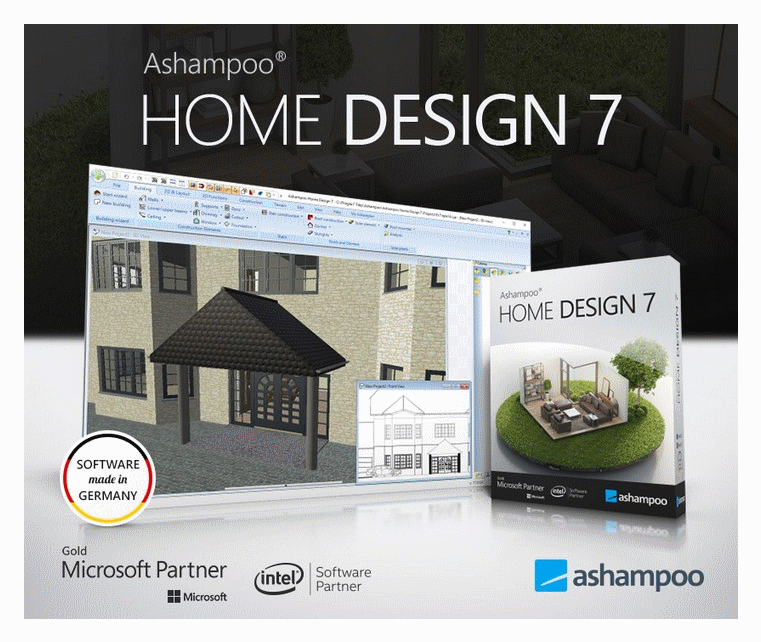 FEATURES AT A GLANCE:
Access to multiple new objects through Google Sketchup and Collada model import

Precise 3D previews for every planning step

Plan roof-mounted photovoltaic installations easily

Over 380 new symbols for electrical, gas, water and security appliances

3D preview with furniture, light and surroundings

New numeric edit tools for walls, windows, and doors

Additional window and door parts, shutter boxes, blinds, borders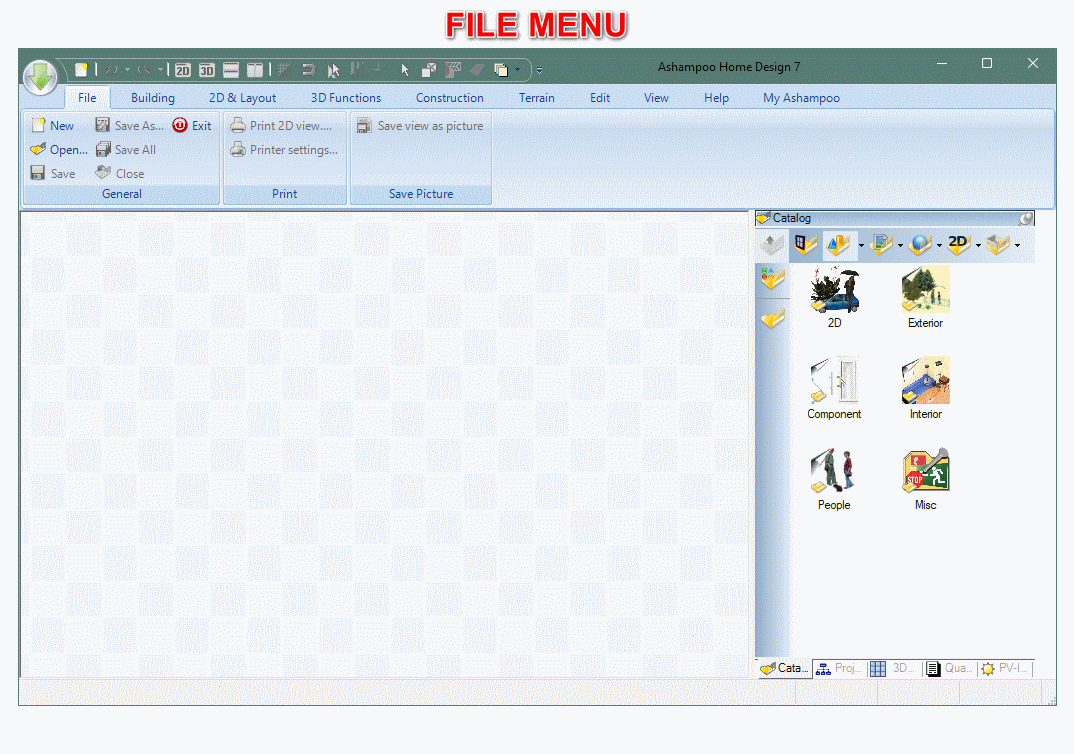 Ashampoo Home Design
supports loading, editing and saving of various new 3D object formats. This gives you access to millions of 3D objects! Simply import them and add them to your designs! With support for SketchUp or Collada models, you can now instantly use numerous generic and brand-specific models.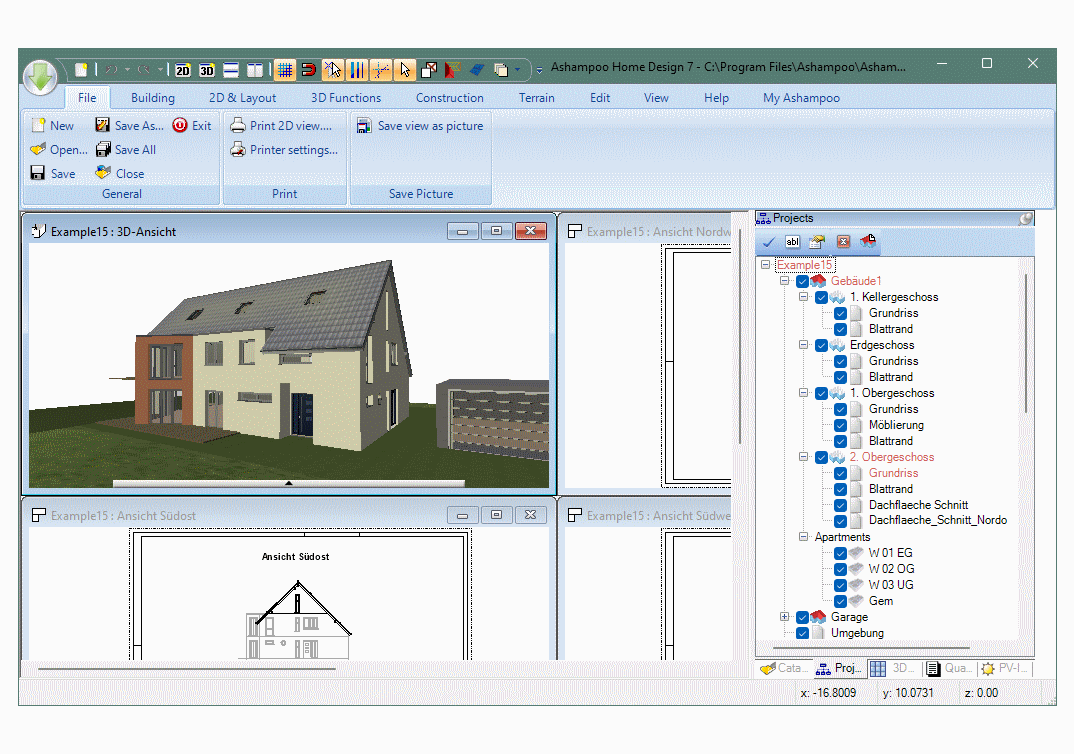 Plan photovoltaic installations with ease!
Comfortable input aids help you plan sophisticated photovoltaic systems in minutes. For roof-mounted system, you can already specify their layout, select modules from the object catalog and their placement during the setup phase. The program will automatically determine the settings for the roof as soon as you point at the target side. Once configured, the photovoltaic installation will be added to your plan.
Redecorate and view results instantly
Ashampoo Home Design is also the perfect tool to redecorate your house and garden. Layout furniture and decorations perfectly in advance and take a virtual tour. It's the easiest way to avoid nasty surprises and disappointment. Everything fits in harmonically. Thanks to a large selection of furniture, decorative elements and plants, you can give free reign to your creativity.
Complex calculations? Let the program do it for you!
Whether it's angle, length, area or volume calculations - you focus on the design, Ashampoo Home Design does the math. The program is not a mere drawing application but your ticket to highly accurate realistic models.
Fascinating 3D previews
The phenomenal 3D view allows you to take a virtual tour through your buildings - long before the first stone is laid. With Ashampoo Home Design, you move freely through your future home and take advantage of the realistic light and shadow simulation to find the perfect spots for your furniture. Visualize complex building constructions and get a glimpse of the way your future projects will look like today!
Fast and intuitive
Ashampoo Home Design uses a ribbon toolbar that groups all functions logically and thematically. This means you can quickly access each feature and since the program is optimized to make the best use of your system resources, even complex calculations and animations happen in a matter of seconds. What other home design software is this comfortable and precise?  
Ashampoo  licenses for this giveaway/contest
Ashampoo GmbH & Co. KG has provided Geeks For Your Information Forum

FIVE (5) licenses

EACH

of

Ashampoo Music Studio 9

and

Ashampoo Home Design 7

as

Valentine's 2023

contest prizes!
Everyone can join in this contest including approved

"new members"

. 


Note:

'new members' must have posted in the "Introduction" section HERE

and

authored at least 1 thread

to qualify.
1. Please answer the question below.
"Share feedback / observations to Ashampoo GmbH & Co. KG about Ashampoo Music Studio and Ashampoo Home Design?"



Post your reply as contest entry

WITH

your social media share.  Please see sample entry below.
2.

REQUIRED:

Please share this giveaway by pasting the quoted text below in your social media account/s.

(Share is

NOT

limited to popular social media sites like Facebook, Twitter, and Instagram (Facebook and Twitter are

PREFERRED

)
Quote:GFYI [Official] Ashampoo Music Studio 9_Ashampoo Home Design 7 Valentine's 2023 Giveaway
https://www.geeks.fyi/showthread.php?tid=18579
OPTIONAL

(but greatly appreciated)

: 


a. Kindly like/follow the social networking sites of our sponsor as added support.
Ashampoo on Facebook
Ashampoo on Twitter
3. One entry per IP address ONLY.

WE WILL BE CHECKING!



Only one entry per member is allowed

(unless otherwise specified)

. Unauthorized entries/share links will be deleted and user will be banned from giveaway. Kindly remember that our

sponsors/representatives

are

always checking

the giveaway threads.

So please be careful.



If there are any questions / concerns pertaining to the giveaway/contest please get in touch with me through PM.

Do not post it in this thread.

Doing so will merit a

warning

and ultimately be

banned

from entering further giveaway/contests.
Each of the FIVE (5) winners will get

one (1) license

of Ashampoo Music Studio 9 and Ashampoo Home Design 7
Winners will be selected via

random.org

and once posted, winners will only have 3 days to send a PM to claim their prize. 
Please include your details (

Name / Email

) in your PM claim for proper licensing.
NO CONFIRMATION

FOR THOSE WITH INSUFFICIENT/INCOMPLETE DETAILS.
Prize will be

FORFEIT

if a PM claim is not received within the specified timeframe.
Prize will be

FORFEIT

if a PM claim is "not confirmed".
The Giveaway will run 
from January 25, 2023 to February 25, 2023